Our Stallholders
A Taste of Welly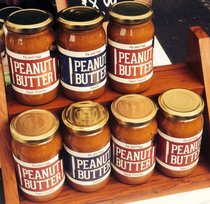 Locally sourced artisan products. A carefully chosen range of Wellington goodies including Fix and Fogg peanut butter, bread from Acme (Prefab Bakery), lovingly made pastries, speciality teas, juice and more. And that Wellington essential- delicious coffee.
Bread: ciabatta, soughdough, oil rolls and baguettes are all made with organic flour. The coffee is Acme. Read more about the prefab products.
Hand made bounty bars: dairy free, gluten free and refined sugar free.
Tearrior teas.

French Can Can pastries.

The Little dough co. doughnuts.

Almighty juice.

Fix and Fogg are artisan peanut butter makers in Wellington. Small batches of seriously delicious peanut butter are made by hand from freshly roasted peanuts. They slowly grind the peanuts then mill the crunchy pieces, and blend by hand. It's a slow process but they wouldn't have it any other way. More about Fix and Fogg and their products.

In season, Mark sells citrus fruit he sources from friends in Gisborne.