Our Stallholders
Woody's Free Range Farm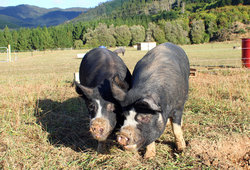 Free range pork from heritage pig breeds raised in a non-intensive and ethical manner. Daniel sells a great range of delicious pork including mince, chops, ham, sausages and bacon.
Attends monthly
Woody's Free Range Farm is just north of Kapiti next to the Tararua ranges.
More about Woody's Free Range Farm and their products.